ORPHANS AND WIDOWS OF AIDS UGANDA (OWAU)
Is located in Kampala District,Makindye Division Katwe 11 Parish,Kiganda Zone,Quen's Way Road. P.o Box 24036 Kampala-Uganda,E.A. Tel:256 772 231366,Fax 256 41 231366 Mob: 256 772 624893,772 319938,256 774-175124,Website:owauaids.itgo.com
INTRODUCTION:
ORPHANS and WIDOWS of AIDS UGANDA (OWAU) Is a new charitable organization NGO founded in july 2000 by kayongo Nsereko with other members as a non profitable organization dedicated to assist the most disadvantaged people in the society.These people include most particularly the AIDS orphans,vulnerable widows,widowers,disabled and elderly guardians for orphans including people living with HIV/AIDS.This is an appeal to the international community to come to the rescue of the needy children left parentless due to AIDS and other problems caused as a result of the civil war.
Our mission is to assist the maginalised group and most particularly those with AIDS through information,education and co-ordination and development skills among the youth in form of promoting self help schemes so as to uplift and strengthen self sustainability
WE HAVE 400 CHILDREN AND WE NEED SPONSORS TO PAY FOR THEIR ACCOMMODATION COSTS,FOOD COSTS AND EDUCATION COSTS TOTALING TO $4 DOLLARS PER CHILD PER DAY TOTALING TO $120 DOLLARS PER CHILD PER MONTH.FOR FURTHER DETAILS YOU CAN CONTACT US THROUGH OUR IMAIL ADRRESS: owau2002@yahoo.com
MISSION STATEMENT:
(OWAU) has exacted on enormous social costs,placing a large burden on the poor and high lighting poor living conditions in the health sector .Social costs have portracted increasing number of Disadvantaged households without medical care,food,clothes,education,shelter and other necessities for social uplift and strenghten self-sustainability.
OBJECTIVES:
To regester orphans and other needy children in our areas of operation and to provide the government with precise and accurate information.
To establish Micro financial credit schemes for care taking of the children,the Needy,The women and their dependants.
To carry out HIV/AIDS awareness to the grassroots.
To regester widows in the areas of our operations and to provide the Government with information on a number of widows whose husbands died of AIDS/HIV and other circimstances.
To study ,analyse and access problems confronting widows and to devise means of assisting them
To carry out senstization campaign for mother to child transmission of HIV/AIDS.
To safeguard all property such as land and carry out others that legaly belong to widows for being misappropriated by wrong enemies.
To compute and acertain the total number of orphans whose both or single parents died of HIV/AIDS or any other natural death in Uganda.
To protect the property of the children from being misappropriated or grubbed by wrong elements.
To establish schools whose objectives will be to educate orphans and other needy children and improve them academically,spiritually and technically.
To establish clinics or health centres where orphans and destitute children shall be treated.
Open up money generating projects from which care takers of children/orphans can be assisted to obtain the daily essential commodities.
To make plan for the provision of employment or job opportunities for them after completion of their school education.
To encourage adoptation,fostering of orphans and promoting family life as a nucleous for sustainability.
To sensitise parents to look after themselves and their children efficiently and provide support .
To encourage caretakers of orphans and children to set up projects like capentry,agriculture products and livestock farming geared to assisting orphans.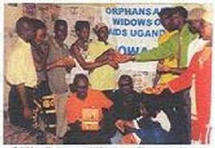 OWAU donating condoms after condom -use workshop
AIMS OF THE PROJECT:
The main objective is to empower communities to develop ,implement and Manage HIV/AIDS intervation through participatory process.The project supports community led HIV/AIDS control activities directly carried out or controlled by community based organizations(out partners).
OWAU GENERAL ACTIVITIES:
THE MAIN OBJECTIVES OF OWAU: IS to provide information and experience sharing among the community members on the related issues and activities. To improve their quality of service delivery.
Fighting poverty with micro-finace programme.MiCRO-FINANCE is a development tool and emerging instrument for reducing poverty and improving methods of accessing financial services in low income families including their families plus orphans,widows,the elderly,destitute and people living with HIV/AIDS.Micro finance scheme is the best tool which helps the poor become self employed and eventually escape poverty
OWAU adopted music dance and drama perfomance as a strategic source of information to reduce the rate of transimission of HIV/AIDS in the community and especially among the youth
WHAT ARE WE DOING IN UGANDA?
1. Prevention of HIV/AIDS:
Training TOTS.
Sensitizing the community/We organize seminors on HIV/AIDS
Holding meetings to discuss HIV/AIDS challenges and possible solutions.
Inviting guest speakers to discuss HIV/AIDS in the communuty.
Printing posters of Hiv /AIDS for awareness.
Organizing and conducting talk shows on radios and televisions
Marching through towns and villages to eradicate HIV/AIDS.